EBONY AND IVORY | PRESS KIT
Show Information
Testimonials
Show Logo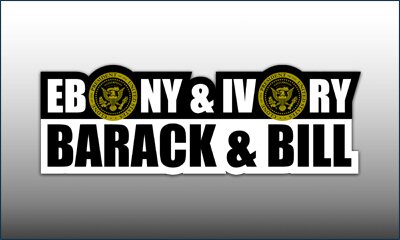 Show Logo 6x10 in 300 dpi
Show Logo 400x240 px 72 dpi
Promotional One-Sheet

Promotional One-Sheet 8.5x11 in 300 dpi
Promotional One-Sheet 600x778 px 72 dpi
Promotional One-Sheet 400x518 px 72 dpi
Promotional One-Sheet 200x259 px 72 dpi
Ebony And Ivory: Barack And Bill
President Clinton calls it "Billy and the Kid." President Obama calls it the longest night of his life...

Ebony and Ivory: Barack and Bill is a live political comedy show produced by Politicos Comedy Brigade. This political comedy show is also the only live production featuring Presidents Obama and Clinton on the same stage.

The relationship between Presidents Barack Obama and Bill Clinton has been the subject of much attention in recent years. They have ranged from valuable political allies to bitter political enemies, willing mentor and reluctant mentee to head of state and political liability. But regardless of their past differences, they are arguably the two most influential people of the last half century, and they are putting aside their differences to share a stage once again.

Ebony and Ivory: Barack and Bill features a first-string cast which includes Barack Obama impersonator Ron Butler and legendary Bill Clinton impersonator Tim Watters (over 200 appearances on NBC's The Tonight Show with Jay Leno).

This live political comedy show features a cast of Politicos Comedy Brigade members including Barack Obama and Bill Clinton in a memorable journey through modern Presidential history, Democratic politics, love and marriage in the Oval Office, and the most prolific alliance and rivalry in politics today.

Ebony and Ivory: Barack and Bill can best be described as an intersection between Martin and Lewis, Broadway, and Comedy Central's The Daily Show with Jon Stuart. The show combines the best impersonators with some of the top celebrity lookalikes, up to the minute political comedy with a Dean Martin and Jerry Lewis style presentation, and the magic of a live stage show with the world's foremost political satire and comedy team.

Ebony and Ivory: Barack and Bill is jam packed with the latest political satire, cutting-edge multimedia, hilarious audience interaction, and clever musical parody bound to make any event's entertainment a resounding success.