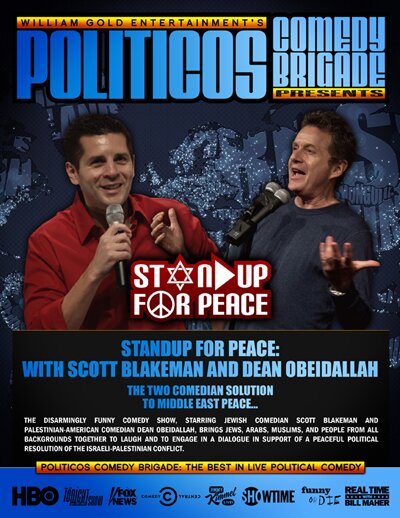 STANDUP FOR PEACE | VIDEO DEMOS
STANDUP FOR PEACE | PRESS KIT
Show Information
Testimonials
Show Logo

Show Logo 6x10 in 300 dpi
Show Logo 400x240 px 72 dpi
Promotional One-Sheet

Promotional One-Sheet 8.5x11 in 300 dpi
Promotional One-Sheet 600x778 px 72 dpi
Promotional One-Sheet 400x518 px 72 dpi
Promotional One-Sheet 200x259 px 72 dpi
Standup For Peace: With Scott Blakeman And Dean Obeidallah
The two comedian solution to Middle East peace...

Standup For Peace is a live political comedy show proudly presented by Politicos Comedy Brigade. This political comedy show brings together a Jewish comedian with a Palestinian-American comic to promote peace and understanding in the Middle East.

This disarmingly funny comedy show, starring Jewish comedian Scott Blakeman and Palestinian-American comedian Dean Obeidallah, brings Jews, Arabs, Muslims, and people from all backgrounds together to laugh and to engage in a dialogue in support of a peaceful political resolution of the Israeli-Palestinian conflict.

The stars of Standup For Peace have diverse backgrounds in comedy, politics and entertainment. Political comedian Scott Blakeman appears regularly on FOX News and MSNBC, and has been billed by NBC as "the top political comedian working in New York today." Dean Obeidallah has appeared on Comedy Central's Axis of Evil, ABC's The View, and CNN's The Situation Room with Wolf Blitzer among many others.

Together, Scott Blakeman and Dean Obeidallah produced a series of comedy shows to benefit Seeds of Peace, a groundbreaking summer camp which brings Palestinian and Israeli teenagers together to promote friendship, understanding, and a peaceful future in the Middle East.

Standup For Peace is comedy with a truly benevolent cause, a show which everyone can enjoy, and a performance which reminds the world that if a Jew and an Arab can get along as comedy professionals, embracing a kind sense of humor about themselves and the other's culture and politics, that peace in the Middle East might not be so impossible after all.